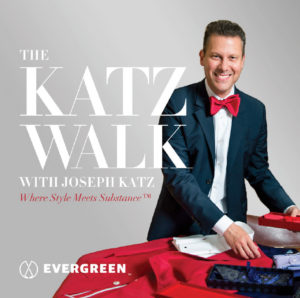 Hollywood fashion expert, VIP personal shopper and commentator Joseph "Joe" Katz brings you in-depth interviews with celebrities and influencers about their style and personal experiences, as well as sharing the best beauty and lifestyle tips and tricks to help you look and feel your best. In select interviews, Joe will also be covering a topic near and dear to his heart — bullying, in a segment called "Deal With It." Fun, engaging and the creator of celebrity looks for the general public, Host Joe Katz is best known for his Oscar Red Carpet appearances.
His fashion media contributions include Good Morning America, The Doctors, Yahoo, Wall Street Journal, CNN, Associated Press, CBS 2, NBC LA. Joe has written fashion commentary in national publications such as In Touch, Life & Style, Real Simple and OK Magazines on celebrity clients like Miley Cyrus, Kim Kardashian, The Jonas Brothers, Blake Lively, Drew Barrymore, Kate Hudson, Ali Larter, Natalie Portman, Taylor Swift and Jessica Simpson. Katz previously owned a model and talent agency specializing in the development of top models worldwide. He worked styling and placing models with such agencies as Ford, New York Models, Elite, IMG and Wilhelmina. In New York, Joe worked with the top PR and advertising executives from Roberto Cavalli, Marc Jacobs, Louis Vuitton, Prada, Ralph Lauren, Diesel, Kenneth Cole, Armani Exchange and many others Joe's passion for fashion and style along with his background in comedy, have made him the guy to watch for and listen to.
The podcast is distributed on the Evergreen Podcasts website and featured on iTunes, Pandora and Spotify. Sponsorship will also be included on the various mobile podcast platforms, including but not limited to, Overcast, Stitcher, Google Podcasts, Pocket Casts, RadioPublic, Radio.com, Luminary, and iHeart Radio (podcast platform).
Subscribe and Listen Online Now at Evergreen Podcasts , Apple Podcasts, and Spotify.